When I was a little girl I would sometimes spend the night with my mother's parents, Jay and Myrna Martin, who lived just a few miles from us.
My grandfather was a strong, stubborn personality who was the life of every family get together and reunion.
My grandmother was a quiet soul who loved to read, especially westerns and romances.
She wrote poetry (some good, some not so good) and if you borrowed one of her books you might find slips of paper with scribbled poetry hidden away in the pages.
They lived in a small, modest two-bedroom home with lots of nooks and crannies to snoop in for me, my sisters, and all my cousins.
On the mornings when I would spend the night, my grandfather would throw open the bedroom door at the ass crack of dawn and bellow "RISE AND SHINE, THERE'S DAYLIGHT IN THE SWAMP".
And, you got up – there was no groaning, or whining to sleep in, you best just roll out of bed.
But, when you got up there were so many things to do.
You got up to go fishing, or to the grain mill, or to the county fair and walk through all the 4H exhibits, or work in their huge garden, or help with lunch that was inevitably hamburgers fried in an iron skillet to well done, and I mean well done, or hot dogs boiled in water on the stove.
They made us all feel loved and getting up to rise and shine was something wonderful.
Then, one day, they're gone.
And, you grow up.
Getting out of bed doesn't bring exciting adventures as soon as your feet hit the floor.
There's not a new flower to discover blooming in the garden, there's no rhubarb to pick by the back fence for rhubarb-strawberry pie. There's not a new kitten to cuddle at the grain mill and the fish you caught broke the line and got away.
Often, being an adult sucks and there's no other way to say it.
The innocence of being a child is lost and the monotonous day-to-day life dulls your being.
Your day becomes filled with undone to-do lists and people who don't have your best interests at heart.
Rising becomes a challenge, let alone shining.
When I was going through my divorce there was a whole week right after my ex-husband and I separated that I did not shine, not one little flicker.
I went to work, worked all day through a haze, came home, had an ice cream bar for dinner, crawled up stairs, fell into bed and pulled the covers over my head.
Literally, covers over my head.
I thank God for those ice cream bars because they pulled me through.
One day I got up and thought to myself, this might be an OK day.
I started to rise and dimly shine.
I slowly began to heal by making an effort to pull myself up and out.
I started to walk with friends to be connected and be supported.
The wonderful Chick Chain Walking Club was started.
Once I was stronger and ready for new adventures, fun things suddenly began appearing on my doorstep. I was ready to shine.
When being a grownup becomes overwhelming again and the shine isn't as bright as it could be, when the first words in the morning are "Oh shit, here we go again", remember to stop and consciously try to find and feel joy and gratitude in the littlest things.
It's time to reconnect with loving family and friends who will say in the wise words of Loretta Castorini from the movie Moonstruck, "Snap outta it".
How can you not rise up after that?
So, in the memorable words of Grandpa Jay, "Rise and Shine, There's Daylight in the Swamp!".
My Rise and Shine wishes for you:
I wish you will write poetry, read romances, believe in love, passion and forgiveness.
Find your passion, lovelies, and then live it!
You make as many wonderful memories as you can with your children and grandchildren, for those memories are part of the fire that keeps their light shining.
You know no matter how dimly your light may be shining, it's still shining and that little light will rise to call love, gratitude and joy back home.
I hope you connect with loving family and friends who will help you rise and shine even brighter.
And, finally, know you shine as bright as all the suns and stars in the universe.
And, I'm forever grateful for your brightness lighting the way in the darkness.
​
As always, with infinite love and gratitude,
Teri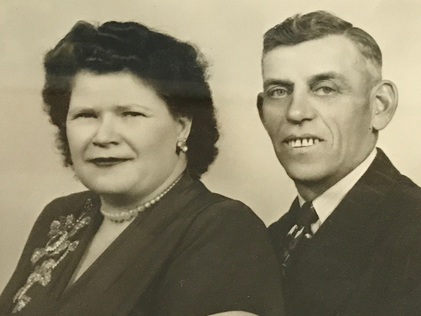 Myrna and Jay Martin
​